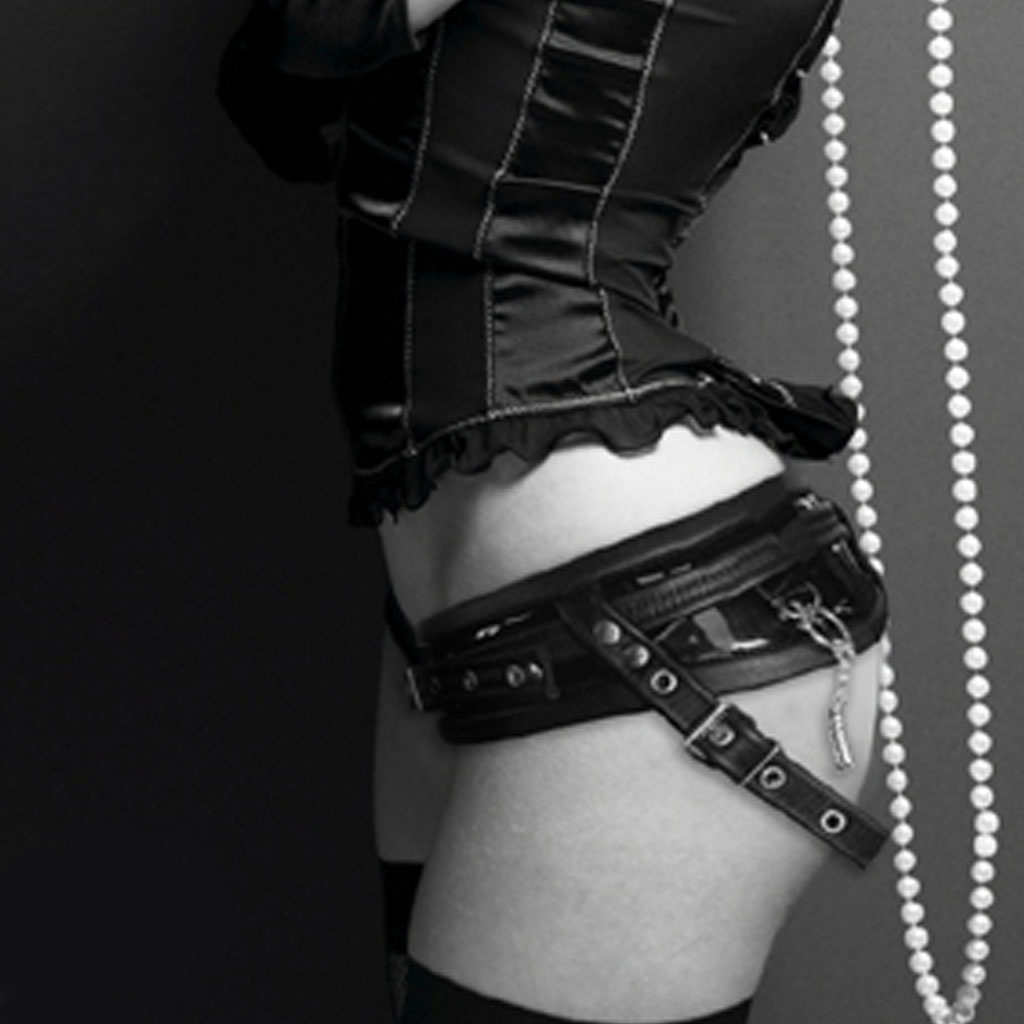 We have people of all genders and sexual orientations walk into the shop looking for strap-on harnesses and dildos and don't even know where to start! These versatile and exciting toys are so much more than a new form of penetration for cisgender lesbians, they are a fun addition to anyone's sex life! But maybe you've been thinking about getting a strap-on set and have no idea where to go or how to start. Fear not, we here at The Velvet Lily want to support you and help you find the perfect strap-on for you and your partner(s). So, when thinking about strap-ons, there are a couple of different considerations, mainly you need to think about: what you're using it for, what kind of harness you're looking for, and what kind of dildo you want! I'll break down the basics in each of these sections so you have some basic language and know where to start your strap-on journey. If you're sold and ready to invest, visit our collection to order yours now! If you're still unsure and want more guidance, come into The Velvet Lily and one of our knowledgeable staff members will be able to give you more guidance!
What are you using your strap-on for?
Strap-ons can be used for a wide variety of activities, more than you might think! So it's important to evaluate what activity(ies) you may be using yours for, as this will help guide what kind of harness and dildo you buy. The major activities people want to use strap-ons for are vaginal penetration, anal penetration, and double penetration (simultaneous penetration of the vagina and anus). While these are the most popular uses of strap-ons, you can also perform oral sex or a handjob on them (especially if you'd like to pretend they are a penis). Knowing which of these activities you want to use your strap-on for can help guide your choice of harness and dildo. It can also help us at The Velvet Lily make suggestions best for the activities you want to engage in.
What kind of harness do you want?
When it comes to selecting a harness, it's generally less about the activity you're doing and more about what's comfortable and functional for you. There are two major types of harnesses with variations within each type. The first is what most think of as a traditional harness, one with straps that go around the waist, thighs, and/or butt. These ones come in varieties ranging from g-string to corset to a jockstrap. One of the major advantages of choosing a strap-style harness is that, on most, you can change out the O-ring (the part that goes around the dildo and holds it in place), which makes it easier to adjust to different sized dildos. People mainly choose their strap based on the material (leather, cotton, nylon, vinyl, etc.), comfort (where the straps sit) and aesthetic (how the strap actually looks), which all differ for each person. The best and most durable brand on the market for these harnesses is SpareParts, they offer strap-style harnesses in a variety of different styles and will last for years.
The other major type of harness is the underwear-style harness. This type was popularized by Rodeoh, though there are now a number of different brands producing this type of harness. One of the major affordances of this type of harness is the control it offers; with the exception of SpareParts, underwear-style harnesses offer the most control of dildos--assuming the dildo fits properly. Another perk of using an underwear-style harness is, at The Velvet Lily, you are able to try them on before you buy, which you can't do with a strap-style harness. For double penetration, harnesses will be most effective when combined (if using 2 dildos) or when designed to sit above the penis. When it comes to choosing which one is better for you, it's helpful to do research first, and decide which one is most likely to fit your requirements and desires.
What kind of dildo are you looking for?
The dildo is, arguably, the most important element of getting the right strap-on because they vary so much in shape, style, texture and size. The dildo is where it is vitally important that you know what activity(ies) you want to use your strap-on for. When it comes to a strap-on being used for vaginal penetration most people like something medium or large (though preferences vary) and something that is curved for g-spot stimulation. Anally, on the other hand, most people tend to select something smaller (depending on their level of experience) and shorter. For those with prostates, something curved will offer more stimulation during anal sex because it is more likely to hit the prostate. For double penetration, selecting something that will more comfortably sit above the penis or another dildo will guide dildo choice. There are also hollow dildos that are harness compatible, these slide on over the penis to add length and girth or help with erectile dysfunction; some are designed to be worn without a harness and others require a harness.
Dildos also come in a variety of textures and materials. The most common dildo for use with a strap-on is a silicone dildo. We also sell glass dildos but they are an unpopular choice for strap-ons because they are so heavy, making them hard to control when putting in a harness. For silicone dildos, there are many different textures of silicone, ranging from soft to hard. The more realistic the dildo, the softer it's going to be; our most realistic dildo are VixSkin dildos. If you're looking for something less realistic, I recommend fun factory dildos, they even have an awesome dildo with metal balls inside, to add sensation. Finally, some of our Tantus dildos, like the Echo, come with insertable vibrating bullets, to turn your strap-on into a vibrating strap on! At the end of the day, the dildo you choose is going to be personal preference; there is no formula to help you pick out the perfect dildo, you are going to have to figure out what you like and pick a dildo accordingly.
Clearly, strap-ons are a HUGE category and, even with this introduction, will require some research for you to know exactly what will work best for you. Additionally, we didn't even cover couples dildo, strapless strap-ons. Finally, when it comes to strap-ons, you get what you pay for, the less expensive the product the lower quality it will be, and the faster it will wear out. If you're just experimenting with strap-ons, it may make sense to spend a little less to try it out, but we recommend eventually investing in a high-quality harness and dildo. Visit our website or visit us in-store to check out everything we have!